Randy Hickey (Ethan Suplee)
Summary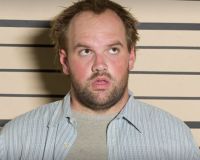 Character: Randy Hickey
Actor: Ethan Suplee
---
Character Biography (Source: Wikipedia)
Randy is Earl Hickey's dimwitted younger brother who assists Earl with righting his wrongs. Randy had been Earl's partner in crime ever since childhood, and following Earl's life-changing experience (being hit by a car and discovering karma), Randy continues to help Earl in his new life completing his list. He has a boyishly innocent nature, and often sees things with a childlike naiveté. Randy initially assumed he and Earl would resume stealing once Earl completed his list. He seems to have a difficulty remembering things, and frequently uses an incorrect word or phrase for something relatively well-known. He tends to go off on long-winded tangents, explaining things that are otherwise extraordinarily simple. Despite his poor intellect, he often says profound things and has proven to be extremely helpful to Earl in his missions, though he is sometimes resentful when Earl's list forces him to make sacrifices.
Earl says Randy is a better liar after drinking four beers but becomes unpredictable if he drinks more. When Randy is hungry, his bloodsugar levels fall, and he becomes an angry, dizzy hulk. He likes vending machine food, Smokey and the Bandit, and old school rap. Whenever the song "It Takes Two" by Rob Base and DJ E-Z Rock is played (B7 on the Crab Shack juke box), Randy will say "Oh no you didn't" or some close variation usually followed by, "Tell me you didn't just go old school!", and then walk onto a dance floor pretending he is "fishing" someone else across the room, who will respond as if they are hooked, and join Randy on the dance floor. Whenever his heart is broken, Randy listens to Cyndi Lauper's "Time After Time". He cannot seem to keep a girlfriend for longer than two weeks. He has a schoolboy crush for Catalina Aruca (although he sometimes has lustful thoughts about her), the maid at the motel where Earl and Randy live. He often goes out of his way to do whatever he can to spend time with her. It is also revealed that he has an extreme fear of birds. He is also afraid of the Pope's mitre because he thinks there might be a chicken under it. He has also claimed to fear paper cuts, saying, "they might as well make books out of knives." He hates cats and is very allergic to them. He also can't stand squeaky noises because for some reason it makes his toes hurt.
In a running gag, when Randy tries to do something foolish, Earl generally has to tell him not to do it twice—once in a normal tone, which Randy usually protests, and a second time, where Earl, obviously frustrated, must tell him again, much more insistently.
He recently married Catalina so she could get her Green Card.
Actor Biography (Source: Wikipedia)
Early life
Suplee was born in Manhattan to Debbie and Bill Suplee (the latter of whom would eventually go on to play Willie, the one-eyed mailman, in My Name is Earl). His parents were actors who met while performing summer stock and appeared on Broadway; his mother also worked as a drama teacher. Suplee's family moved to Los Angeles, California when he was one. He has spent most of his life there.
Career
Suplee began acting in school plays. At 16, after high school, he was encouraged by friend Giovanni Ribisi to take an acting class. (It was also through Ribisi that Suplee first met his friend and future "Earl" castmate, Jason Lee.) Ethan dropped out of the acting class at 17, however he felt inspired to pursue acting as a career. He was originally best known as the kid from Sega's "Dead Squirrel" Game Gear commercials in the early 1990s.
The first major role Ethan landed was his comedic performance as Willam Black in Mallrats, directed by Kevin Smith, alongside Jason Lee. Smith recast both Suplee and Lee in later films Chasing Amy, Dogma and "Vulgar." They both make cameos in Clerks II. He went on to a guest starring role as Frankie "The Enforcer" Stechino in Boy Meets World, from 1994–1998. Suplee's notable dramatic performances include the roles of the Nazi skinhead Seth in American History X, Louie Lastik in Remember the Titans, Tuna in Blow, and Pangle in Cold Mountain.
Personal life
Suplee married Brandy Lewis, daughter of Geoffrey Lewis and sister of Juliette Lewis, in the summer of 2006. The couple have two daughters, Frances Clementine (born 2005) and Billie Grace (born 2007). Lewis also has two daughters from a previous marriage. Both Suplee and Lewis are members of the Church of Scientology. In Clerks 2, he was shown to have lost a substantial amount of weight. He has a fear of mice.