1x01 Pilot
Summary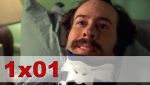 Air Date:
September 20, 2005
Writer(s): Greg Garcia
Director: Marc Buckland
---
Community rating: 92.3 %
---
You must be logged in to rated!
Links
Synopsis (Source: Wikipedia)
Earl J. Hickey is a small-time thief with a messed-up life. He wins $100,000 with a scratch-off lottery ticket, but is immediately hit by a car and watches the ticket blow away. In the hospital recovering, Earl's wife divorces him, and Earl is introduced to karma while watching Carson Daily. He decides to try to make up for all the bad things he has done and makes a written list of 259 items. After leaving the hospital he starts on his list and right away by picking up trash to make up for #136 I've been a litterbug, he finds his lost $100,000 scratcher. Figuring karma works pretty well, he resolves to continue making up for items on the list. He starts with #64 Picked on Kenny James, a misdeed dating back to elementary school. Earl, Randy and Catalina find Kenny's paren­t's house, and Earl sends Randy to find out where Kenny lives. Randy is a good liar as long as he has 4 beers. Randy poses as former class president looking for Kenny, but received a beer from Mr. James. Randy mutters "dibs" when he sees Mrs. James while he is mildly drunk, and makes his escape with the address. Earl starts watching Kenny for the next few days, observing him. Kenny had a good job as an assistant manager, a powder blue Renault Le Car, and a nice house, but had nobody to share his life with. So Earl decides to make up for his chilhood ridicule of Kenny by getting him laid. Earl enlists the help of Patty, a daytime hooker. When Kenny refuses free sex, Earl talks to Kenny in person. Kenny is still afraid of Earl and Randy, telling them to take what they want and leave, but Earl tries to help Kenny because he "gave up the chance to have free sex with a daytime hooker." Randy finds in Kenny's nightstand a copy of homosexual pornography. Earl and Randy slowly back away and run out of his house. Earl, Randy, and Cataliina return to the hotel, Earl decides not to help Kenny because he was gay. When he steps into his motel room, his ex-wife Joy hits him with a telephone. Joy is angry that Earl didn't bother telling her that he won the lottery, and leaves in her Subaru BRAT. Earl thinks his ex-wife attacking him was Karma's way of saying that Earl should give Kenny another shot. Earl is waiting for Kenny when he comes home, Kenny was about to use Mace (spray) on Earl, but accidentally sprays it in his own face. Earl pours milk into Kenny's eyes to soothe the irritation, then asks Kenny why he doesn't have a man. Kenny answers that nobody knows he is gay, but tried to go to a gay bar, but was too scared. Earl agrees to come with him, and takes Randy, who agreed to go when he heard there was going to be bubbles. Kenny is still too afraid to try to talk to any of them, but thanks Earl for giving him back his confidence and no longer feared him. This allowed Earl to cross off #64, as Randy is dancing with a man after drinking 15 beers.
Official Storylines (from NBC)
KARMA HAPPENS THIS FALL – SERIES PREMIERE – Earl (Jason Lee, "Almost Famous," "Chasing Amy") has taken one too many wrong turns on the highway of life. However, a twist of fate turns his life into a tailspin of life-renewing events. Earl wins a small lottery, and, after an epiphany, he is determined to transform his good fortune into a life-changing event as he sets out to right all the wrongs from his past. Joining Earl along his quest to cleanse his karma are a few dim-witted friends: hapless brother Randy (Ethan Suplee, "Cold Mountain") and the very sexy Catalina (Nadine Velazquez, "The Bold and the Beautiful"). Even Darnell (Eddie Steeples, "Torque"), the owner of the Crab Shack where Earl drinks beer, offers his support. But it's Earl's ex-wife Joy (Jamie Pressly, "Not Another Teen Movie") who won't lift a finger to help unless there's something in it for her.
Trivia
The DVD release of the first season of the show features a 13-and-a-half minute long "mini-episode" called "Bad Karma" made specially for the set. The mini-episode is actually an alternate version of the events of the Pilot in which, instead of watching Carlson Daly on TV in the hospital, Earl watches Family Guy. Inspired by the megalomaniacal tendencies of Stewie Griffin, Earl comes up with a very different list and outlook on life.
According to the DVD commentary, when Randy is about to go into Kenny James' parents' house, he steps in dog excrement.
23 – Peed in the back of a cop car
41 – Snatched a kid's Halloween candy when he came to my trailer to trick-or-treat
64 – Picked on Kenny James
102 – Harmed and possibly killed innocent people with second hand smoke
136 – I've been a litterbug
Erasure – Make Me Smile (Come Up & See Me)
Jane's Addiction – Been Caught Stealing
Nena – 99 Luftballons
Rob Base & DJ E-Z Rock – It Takes Two
Santana – I'm Winning
The Wiggles – Monkey Dance
Screenshots