1x06 Broke Joy's Fancy Figurine
Summary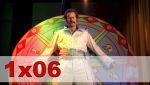 Air Date:
November 1, 2005
Writer(s): Danielle Sanchez-Witzel
Director: Lev L. Spiro
---
Community rating: 83.1 %
---
You must be logged in to rated!
Links
Synopsis (Source: Wikipedia)
Earl (Jason Lee) and Randy (Ethan Suplee) blew up a ceramic figurine belonging to Joy (Jaime Pressly) while playing with bottle rockets. The figurine was a trophy won by Joy and her mother when Joy was young, and that error became #153 on The List: "Broke Joy's fancy figurine."
In this episode, Earl discovers he can't just buy a replacement figurine (described by Earl as a princess riding a "487 side-discharge, self-mulching lawn mower") since they're custom made and awarded only as the first prize in the Balboa & Sons Mother and Daughter Prettiest Pretty Princess Pageant. Earl finds Shelly Stoker (Missi Pyle), a competitor of Joy's who has won the contest the last several times. If Shelly will give him the trophy when she wins the upcoming pageant, Earl promises his help with Shelly's and her daughter Candy's (Chloe Moretz) practice of their family talent for knife throwing.
Joy knows Earl is helping Shelly and Candy, but she doesn't want Earl to be able replace the figurine — she wants him to buy her a hot tub instead. To prevent them from winning, Joy finds that the rules don't say that the mother and daughter both have to be alive, and enters the pageant with her "deceased mother", an urn filled with ashes of cigarettes recently smoked by herself and Darnell (Eddie Steeples).
At the pageant, the score is tied going into the talent portion. Joy sings a horrible version of "Wind Beneath My Wings" and it looks like Shelly and Candy are going to win easily. But Candy wants to be a doctor, and she wants to lose the competition so she won't have to spend her life on the pageant circuit with her mother. Earl doesn't want to ruin Candy's life just to fix his list item, so he tells her to throw the knife into his leg so they will lose the talent portion and the pageant.
Despite her bad talent, Joy wins the pageant and a new figurine for herself instead of getting it via Earl's plan of using the one from Shelly and Candy. Karma is satisfied either way, and Earl crosses the item off his list.
Official Storylines (from NBC)
PRETTIEST PRETTY PRINCESS PAGEANT – Continuing down his list, Earl (Jason Lee) must help Joy's (Jaime Pressly) former nemesis and her daughter win a beauty pageant in order to replace her figurine that he broke. The rare and prestigious princess figurine is awarded to the mother/daughter pageant winners, which Joy and her mother won one year when Joy was a child. Meanwhile, Joy enters the pageant on her own with her "dead" mother to win the figurine herself to stay on Earl's list. She wants him to still owe her so that he'll buy her the hot tub she's been eying as compensation. Nadine Velasquez and Eddie Steeples also star.
Trivia
The orphanage Joy visits is actually a church in North Hills, California. The parking lot of this church is also used as the set for the trailer park where Joy and Darnell live.
153 – Broke Joy's fancy figurine
Bette Midler – Wind Beneath My Wings
Madeline Hyde / Francis Henry – Little Girl
Salt-N-Pepa – Push It
Stevie Ray Vaughan – Pride And Joy
Screenshots