1x09 Cost Dad the Election
Summary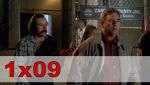 Air Date:
November 22, 2005
Writer(s): Bobby Bowman
Director: Chris Koch
---
Community rating: 84.4 %
---
You must be logged in to rated!
Links
Synopsis (Source: Wikipedia)
Earl tries to make up for stealing a car from a girl who only had one leg, and gets beat up by her boyfriend with no legs. When her boyfriend is hitting him with a campaign sign, Earl remembers #4, how he cost his father the last mayoral election, and against his father's wishes Earl signs him up to run again. His father is at first angry at Earl for doing this, but after hearing the public's response, decides to go ahead with it but Earl realises they'll never get enough votes to win the election so manages to get others to be registered, but after the papers are blown away, Earl does the exact same thing he did to cause his dad the election the first time. Earl's thrown in jail and his father loses the election but his father comes to bail him out. Earl sees it'll take a lot more to repair his relationship with his father.
Official Storylines (from NBC)
MAYOR HICKEY – BEAU BRIDGES GUEST STARS AS EARL'S FATHER – Earl (Jason Lee) sets out to mend his relationship with his father Carl (guest star Beau Bridges) by trying to cross number four off of his list: "blew dad's chance to be elected mayor." Four years prior, Carl ran for mayor to oppose the other candidate's plan to redirect airplane traffic away from the affluent part of town and towards Carl's neighbor­hood. His campaign was going very well, until a misunderstanding between Earl and a police officer was caught on tape and broadcast as the opposing candidate's cam­paign commercial. Now Earl submits his father's name to run again, even though Carl is adamant that he does not want to be mayor. Earl, Randy (Ethan Suplee), and Catalina (Nadine Velazquez) recruit unregistered voters to boost Carl's numbers, hoping to win not only the election for Carl, but also a relationship with his father for Earl. Jaime Pressly and Eddie Steeples also star.
? – Broke a window
4 – Cost Dad the election
86 – Stole a car from a one-legged girl
Creedence Clearwater Revival – Fortunate Son
Eddy Grant – Electric Avenue
Nick Drake – Time Has Told Me
Stevie Wonder – Higher Ground
Wall of Voodoo – Mexican Radio
Screenshots