1x10 White Lie Christmas
Summary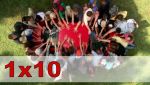 Air Date:
December 6, 2005
Writer(s): Timothy Stack
Director: Marc Buckland
---
Community rating: 87.4 %
---
You must be logged in to rated!
Links
Synopsis (Source: Wikipedia)
Earl has wrecked every Christmas he's spent with Joy, so he, Randy and Catalina try to win a Dodge Neon in a contest wherein they had to keep their hands on said car, in an attempt to get Joy the car for a Christmas present. Earl is eliminated when he goes to shake hands with Randy, so it's up to Catalina and Randy to win the car. Earl decides to correct his mistake of wrecking Dodge's and Earl Jr.'s Christmas one year in the meantime. He then finds out that Joy never told her parents that she and Earl were no longer married, and lied about his absence by saying he was serving in Iraq. She explains to Earl that her father is a racist and would freak if he knew she were married to Darnell (based on his reaction to one of her high school boyfriends). Joy's mother has also been struck with rheumatoid arthritis and kidney failure, and needs dialysis and is in a wheelchair. Earl finds out that this is a lie, and Joy's mom was taking the money for her dialysis and gambling it away at an Indian casino. Meanwhile, Catalina reveals to Randy that if she wins the car she's keeping it for herself rather than have Earl give it to Joy. Catalina tricked Randy into taking his hand off the car, thus winning. She then realized she needed a social security number, and since she is an illegal alien, she didn't have one. She ran away from the judge, leaving Randy the winner. Earl wraps the car up for Joy on Christmas Eve, but Joy's mother steals it and loses it while gambling at an Indian casino. Earl comes after her and realizes the bad news. When they get to Joy's trailer, everyone starts arguing. Darnell walks in, and Joy's father admits that he isn't racist, he loves black people, and that he didn't want Joy dating her black ex-boyfriend from high school because he was Joy's half brother. When Dodge and Earl Jr. come to open their presents, they all stop fighting and become happy. Earl thinks he's done enough and crosses it off his list.
Official Storylines (from NBC)
SECRET SANTA – As the holiday season comes under way a few secrets are exposed when Earl (Jason Lee) attempts to cross number seventy-four off of his list: "always ruined Joy's Christmas." Earl, Randy (Ethan Suplee), and Catalina (Nadine Velazquez) enter a radio contest to win a brand new car for Joy (Jaime Pressly) to make up for all of the thoughtless Christmas presents Earl gave her while they were married. While Randy and Catalina vie over the car, Earl finds out that Joy's parents believe that he's still their son-in-law and that he's just returned from the war in Iraq. Joy is afraid to tell her father, an alleged racist, that she is now married to Darnell (Eddie Steeples), so Earl plays the part, afraid of ruining another one of her Christmases.
Trivia
Joy's father has at least two illegitimate half-black children: the son mentioned in this episode who briefly dated Joy in high school and a daughter named Liberty who appears in the season two episode Blow.
74 – Always ruined Joy's Christmas
Bing Crosby – Jingle Bells
Burl Ives – Have a Holly Jolly Christmas
Roy Hamilton – Don't Let Go
Screenshots