1x13 Stole P'S Hd Cart
Summary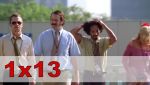 Air Date:
January 19, 2006
Writer(s): J. B. Cook
Director: Chris Koch
---
Community rating: 88.4 %
---
You must be logged in to rated!
Links
Synopsis (Source: Wikipedia)
Earl completes another item from his list where he stole Pop's Hot Dog Cart. Earl drove it away into the woods because the hot dog competition paid Earl's Gang to do it. He planned to return it but, the competition burned the cart down forever. Earl then tried to raise enough money to buy a new one.
Official Storylines (from NBC)
CUBICLE LIFE – GIOVANNI RIBISI GUEST STARS – Earl (Jason Lee) does right when he returns a Pops' Old Fashioned Weiner hot dog cart, which he and Ralph (guest star Giovanni Ribisi) had stolen years prior. His good deed is undone, however, when Ralph, working for the competition, sets fire to the cart just as business is picking up again. Earl demands that the competing franchise owner pay the ten thousand dollars to replace the cart, but he refuses, sending Earl and Randy (Ethan Suplee) over his head to the corporate headquarters. Earl tricks his way into a job at the company and proceeds to steal office supplies in an effort to make up the ten thousand dollars. When he realizes that it would take the rest of his life to steal enough supplies, he recruits Randy, Joy (Jaime Pressly), Catalina (Nadine Velazquez), Darnell (Eddie Steeples), and Ralph to get jobs at the company as well to help him.
159 – Stole P's HD Cart
Canned Heat – Let's Work Together
Rare Earth – I Just Want to Celebrate
Tomoyasu Hotei – Battle Without Honor or Humanity
Screenshots