1x15 Something To Live For
Summary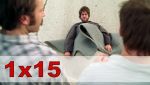 Air Date:
February 2, 2006
Writer(s): John Hoberg, Kat Likkel
Director: Marc Buckland
---
Community rating: 80.3 %
---
You must be logged in to rated!
Links
Synopsis (Source: Wikipedia)
Earl's having car trouble, and sees it as a sign to make up for "Sucked gas out of a hose". When he gives the man he stole all the gas from, he finds that Philo is suicidal. Earl can't just leave him, so he makes it his duty to give Philo a reason to live. They try many things, such as teaching Philo to play Motel Hockey and renting him a book on tape called "Something To Live For." Philo then says that there is a girl he is in love with, so Earl and Randy decide to approach this girl in hopes of getting her to fall for Philo and pull him back above water. When they clean him up to go talk to the girl, he points at her house, and we see that it's Joy. Joy agrees to go out with Philo in an effort to get back at Darnell after finding his staff of pornographic magazines. Joy shows up overdressed for the occasion (much to Philo's amazement and liking). Throughout the date, she makes Philo touch her and get close while Darnell busts tables and watches. Darnell tells Philo to get off Joy, and the married couple runs off together. Earl and Randy find out and go to get Philo, fearing he'll kill himself. They speed back to his house to find him inside his car, presumably dead, but he was just listening to the book on tape. Earl tells him of his fear that Philo would have committed suicide, but Philo says he never would have killed himself because he has friends now. While Randy and Earl spent all that time trying to help Philo find a reason to live, he found it on his own, and the episode concludes with the two brothers going into Philo's home to watch TV.
Official Storylines (from NBC)
MY SAVING GRACE- ADAM GOLDBERG GUEST STAR – Earl (Jason Lee) takes his car troubles as a sign that it is time for him to redeem himself for a long run of stealing gas out of a complete stranger's car. A few months back, Earl and Randy (Ethan Suplee) siphoned gasoline for about a month from an unlock car in the trailer park. When Earl goes back to the trailer park to return the gasoline, he discovers that the owner Philo (guest star Adam Goldberg, "A Beautiful Mind") is an annoying and suicidal man who is more determined than ever to succeed with his suicide attempts. Unable to just walk away, Earl makes it his duty to give Philo a reason to live and it seems that setting him up on a date with Joy (Jaime Pressly) is the only way of doing this. Earl and Randy however, find that something else they provide is what will ultimately save Philo. Nadine Velazquez and Eddie Steeples also star.
Trivia
After taking out Darnell's stash of pornographic magazines, Joy asks where issue February '04 is. She then says "I don't know why you need Miss February when you got all this right here." Jaime Pressly posed for the February 2004 issue of Playboy.
On the Season 1 DVD release of My Name is Earl, the Rock and Roll Part II was edited out from the scene. This is assumably in light of the charges of child molestation pressed upon Garry Glitter in late 2005.
62 – Siphoned gas
Black Rebel Motorcycle Club – Ain't No Easy Way
Edwin Starr – Twenty-Five Miles
Gary Glitter – Rock & Roll Part 2
Harry Nilsson – Joy
Queen – You're My Best Friend
Screenshots