1x19 Y2K
Summary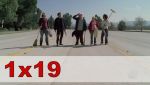 Air Date:
March 23, 2006
Writer(s): Hilary Winston
Director: Marc Buckland
---
Community rating: 93.3 %
---
You must be logged in to rated!
Links
Synopsis (Source: Wikipedia)
Earl, Joy, Darnell and Donny Jones go to the local shopping mart to make up for #24 "Stole a number ticker". While waiting in line, Randy comes up and takes the number ticker from Earl, saying it isn't his turn. Earl can't disagree. He has a flashback…
It's Christmas 1999, and as Earl and Joy were married just three weeks earlier, they decide to really celebrate. Earl, Joy, Randy and Donny go out to do several "Christmas Carol Heists", then go to the Crab Shack to celebrate their ill-gotten goods. There, they meet Darnell who impresses the group with his smarts. He starts talking about Y2K, so the group decide to stock up on supplies.
Meanwhile, Catalina starts her journey to America.
The group goes to the shopping mart, and run into Darnell again. Earl doesn't remember his name, and calls him "Crabman". On their way out, a security guard stops the group to see if they stole anything. Donny drops some stolen goods and runs away, followed by the guard. Darnell comments that security won't matter after Y2K, so Joy decides to return her stuff and steal it later, which the group thinks is a good idea.
Meanwhile, Catalina runs across the border while being shot at.
The group goes back to Donny's house to celebrate New Year's Eve and when midnight hits, the lights go out. The group thinks that the computers have taken over, not realizing that Donny's sister likes screwing with the electric company. They also hear explosions, and think that other "survivors" are using grenades and machine guns. Actually, it is the usual New Year's fireworks, which they don't recognize as they are usually passed out drunk by about 9:00 pm. They stay inside until sunrise, then go outside to investigate.
Seeing no one, they think computers have taken everyone away, and that they are the last human beings on Earth. Actually, everyone is at the New Year's parade, which they usually miss, sleeping. They go to the shopping mart and discover anarchy. Each takes a section of the mall: Donny in electronics, Randy in Toys, Joy in Cosmetics, Darnell in Party Supplies, and Earl in Snack Foods.
A dispute arises between Earl and Donny, regarding a TV that Joy wants, which nearly erupts into violence. Randy suggests the "number ticker" method for a resolution method, which helps everyone to live harmoniously (Randy is appointed president) until the next morning, when they awaken to find the Bargain Bag once again open for business.
Meanwhile, Catalina arrives in the United States as an illegal immigrant, after being smuggled across the border in a wooden crate hidden inside the engine compartment of a Chevy Blazer.
Earl finally convinces Randy to give the ticker back.
Official Storylines (from NBC)
TAKE A NUMBER – When Earl (Jason Lee) decides to cross number twenty-four off his list, "stole a red take-a-number machine," he finds that he has to first convince Randy (Ethan Suplee) it's the right thing to do. Randy's (Ethan Suplee) fondness of the machine is revealed in a flashback to New Year's Eve 1999 when the gang confuses Y2K with the apocalypse leading them to believe they are the last surviving people on the Earth. Jaime Pressly, Nadine Velazquez and Eddie Steeples also star.
Trivia
Earl sneaking in through the window and stealing presents while Joy, Randy, and Donny sang Christmas Carols at the front door is similar to The Simpsons episode Grift of the Magi, when Homer stole Funzos while Bart and Lisa distract the families at the door by caroling.
Catalina hiding inside the glove compartment of a car references a real life photo of an immigrant who was found hiding in a car in a similar fashion. Also, considering that the truck was an 1973-1987 Chevrolet Truck, which even without any modifications, it is feasible that a person could hide in a similar fashion, but in the engine bay, not the dashboard.
24 – Stole a number-ticker
Clarence Carter – Backdoor Santa
Dire Straits – Money for Nothing
R.E.M. – It's the End of the World As We Know It (And I Feel Fine)
Ted Nugent – Free For All
Screenshots