1x20 Boogeyman
Summary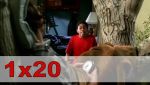 Air Date:
March 30, 2006
Writer(s): Vali Chandrasekaran
Director: Eyal Gordin
---
Community rating: 85.0 %
---
You must be logged in to rated!
Links
Synopsis (Source: Wikipedia)
In 2000, Earl, Randy, Joy, tried to rob a house when the owners returned. They hid inside, fleeing one at a time. Earl however, was trapped in a kid's bedroom. The child goes to bed and Earl tried to sneak out. When the kid saw Earl, he thought he was the boogeyman.
Now, Earl tries to make it up to the kid by being his slave. But after a day of slavery he realizes that Albie is afraid of the dark. So each night they dim the lights a little, and Earl sits outside Albie's window, talking to him. After a week, he is no longer scared of the dark.
Albie then shows up at Earl's door, saying he wants to live with him because his own parents ignore him. Earl tries to call the kid's dad, saying "I have your son" and Albie hangs up the phone, then rips the cord out of the wall. His dad believes that Earl kidnapped his son.
Soon the motel where Earl lives is surrounded by police. Albie's father climbs the motel fire escape, and tries to rescue his son. Seeing that his dad cares about him, Albie returns home.
Official Storylines (from NBC)
DON'T TURN OUT THE LIGHTS – A few years ago Earl (Jason Lee) succeeded in affirming a child's fear of the boogeyman when he broke into the Tollhurst household and hid under their six-year-old's bed to escape getting caught robbing the house. When Earl decides to cross off "made a kid scared of the boogeyman" from his list, he discovers just what kind of lasting affect he had on the little boy. Ever since Earl's surprising visit, the kid has been afraid of the dark. But when Earl begins to take the time and energy to resolve his fear, the boy grows attached to Earl and decides he'd rather live with him than with his indifferent father. The boy soon realizes however, just how much his father actually cares about him and how much he would fight Earl to get him back. Ethan Suplee, Jaime Pressly, Nadine Velazquez, and Eddie Steeples also star.
Trivia
Randy and Albie play Battleship during the police standoff.
239 – Made a kid scared of the boogeyman
Bob Marley – I Shot the Sheriff
John Carpenter – Halloween Theme
KC and the Sunshine Band – I'm Your Boogie Man
The Spinners – I'll Be Around
Screenshots