2x09 Born a Gamblin Man
Summary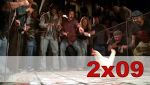 Air Date:
November 30, 2006
Writer(s): Victor Fresco
Director: Chris Koch
---
Community rating: 86.9 %
---
You must be logged in to rated!
Links
Synopsis (Source: Wikipedia)
Earl decides to make amends for repeatedly stealing Kenny James' lunch as a child, only to discover that Kenny's most recent boyfriend dumped him for not being masculine enough. Kenny then asks Earl to help him become more "manly", and Earl decides to teach him to gamble. Meanwhile, Joy's public defender suggests that she enter an anger management class in order to avoid losing her temper in court, but due to budget cuts in Camden County, she ends up in a "one size fits all" therapy group. Kenny begins to develop a gambling problem, to the point of having to sell all of his furniture due to losses, and Earl also begins to show signs of gambling addiction. The two become consumed to the point where they start to frequent an illegal casino whose patrons bet on the spot where a chicken will defecate, setting off a chain of events in which Catalina speeds in order to make it to Club Chubby on time, is pulled over by the police, and deported to Mexico. Earl then vows to go to Mexico and set things right for Catalina, which sets up the next episode, 2×10 South of the Border Part Uno.
Official Storylines (from NBC)
LET IT RIDE – Number 146 on his list has Earl (Jason Lee) making 247 bologna sandwiches to make up for all the ones he stole from Kenny (guest star Gregg Binkley) in fifth and sixth grade. While delivering the sandwiches, Earl is struck by Kenny's obvious lack of machismo which then inspires Earl to take on a new mission – to make Kenny a real man. While showing Kenny how to gamble like "real men," Earl discovers that his newfound karma is useful but soon finds it difficult to stop once he's on a roll. Meanwhile, Randy (Ethan Suplee) plans how he will finally declare his love for Catalina (Nadine Valazquez) and Joy (Jaime Pressly) goes to group therapy to get over her anger management issues for her upcoming trial. Marlee Matlin, Jonathan Slavin, and Eddie Steeples also star.
Trivia
Randy yells out "RIIIIICOOOOLA!!!" in Kenny's empty house, a callback to the first-season episode 1×17 Didn't Pay Taxes.
146 – Stole gay Kenny's lunch everyday of 5th and 6th grade
Elton John – Saturday Night's Alright For Fighting
Rolling Stones – You Can't Always Get What You Want
Screenshots