2x17 The Birthday Party
Summary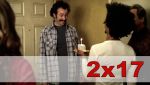 Air Date:
February 15, 2007
Writer(s): Hilary Winston
Director: Eyal Gordin
---
Community rating: 87.1 %
---
You must be logged in to rated!
Links
Synopsis (Source: Wikipedia)
It's Earl's bir­thday, and Earl expects everyone to celebrate him for all the things he's crossed off his list in the past year. During the party at the Crab Shack, Earl's friends and parents wind up rehashing all the terrible things he's done and hasn't yet resolved. Frustrated, Earl leaves his own party and heads home to his motel. After avoiding Didi (the one-legged girl) in the motel parking lot, Earl is surprised to find all of the party guests waiting in his motel room to throw him a surprise party. Randy explains that the first party at the Crab Shack had been a prank. Earl receives the good wishes he had been hoping for, and for his birthday gift, each guest chooses an item and crosses it off his list. Didi, however, is left outside, furious, and Earl realizes he will eventually have to deal with her.
Official Storylines (from NBC)
I'LL CRY IF I WANT TO – It's a special episode as Earl (Jason Lee) celebrates his birthday. The day not only marks another exciting year in his life, but more importantly, it's also a time for Earl to reflect on all the items he's crossed off his list during the past year. When Randy throws Earl a birthday party at the Crab Shack, however, Earl finds it hard to remember the good things he's done when everybody at the party keeps reminding him of how he's screwed up in the past. Right when Earl thinks his day can't get any worse, everybody has a special birthday surprise in store for him. Nadine Velazquez, Jaime Pressly, and Eddie Steeples also star.
Trivia
Nescobar A-Lop-Lop also continues with his compulsion to steal pens in this episode, which was first reference in "Born a Gamblin' Man".
As on all his birthdays (except last year), Earl eventually gets drunk enough to breakdance, as mentioned in "Joy's Wedding".
The story of how Earl stole a car from a one-legged girl is finally revealed: Earl got drunk and slept with Didi. When he awoke the next morning and saw her prosthetic leg, he panicked and fled, stealing her car in the process.
While picking up Didi, Earl tells her she's "got great boobs" and mistakenly calls her Peggy, just as he did with Joy in the pilot.
? – Played pranks on Randy
? – Made fun of pregnant Joy
? – Urinated on living room rug
? – Hurt Donny Jones with a vase
? – Nearly got my Parents divorced
? – Stole multiple car parts
? – Got Darnell stoned
86 – Stole a car from a one-legged girl
KC and the Sunshine Band – That's the Way (I Like It)
Pat Benatar – Heartbreaker
Queen – Fat Bottomed Girls
Tone Lōc – Funky Cold Medina
Screenshots