3x03 The Gangs of Camden County
Summary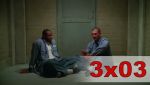 Air Date:
October 4, 2007
Writer(s): Victor Fresco
Director: Michael Fresco
---
Community rating: 88.1 %
---
You must be logged in to rated!
Links
Synopsis (Source: Wikipedia)
Earl is offered a deal to receive a month off of his sentence if he can resolve problems between two rival gangs. But, he finds the task harder than he expected. After Joy bails out Randy for grand theft auto, Randy tries to get a job as a prison guard to reunite with his brother.
Official Storylines (from NBC)
LOVE THY ENEMY? –CRAIG T. NELSON GUEST STARS– With karma back on his side, Earl (Jason Lee) is approached by the jail warden (Craig T. Nelson) to help resolve one of the biggest problems going on in the jail yard. There are feuding gangs constantly breaking out into fights, and Earl is asked to resolve these gangs' differences. If he is able to settle this conflict, he will receive a lesser sentence. Earl accepts the task and finds out a lot more than he bargained for. Meanwhile, Randy (Ethan Suplee) is still suffering from Earl withdrawals and continues to search for ways to be reunited with his brother. Jaime Pressly and Eddie Steeples also star.
Trivia
During the montage of the Warden before working, one can see him playing Guitar Hero III on the Playstation 3 (it is shown to be Guitar Hero III because of the new design of the guitar controller). At a later scene in his life, the year is 2001, long before the game's, or the system's, respective release dates. However, it is possible that this flashback took place before his wife was elected governor.
Jerry Lewis – Great Balls of Fire
Montrose – Rock Candy
The Doobie Brothers – Listen to the Music
Screenshots