3x09 Randy In Charge (...Of Our Days and Our Nights)
Summary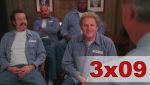 Air Date:
November 8, 2007
Writer(s): Mike Mariano
Director: Eyal Gordin
---
Community rating: 86.4 %
---
You must be logged in to rated!
Links
Synopsis (Source: Wikipedia)
When Earl suggests that Randy might not be right for the job of prison guard, the brothers quarrel over who is really in charge while Earl is in prison, but things get out of hand when Randy takes some convicts out for ice cream. Meanwhile, the warden offers Earl five weeks off his prison sentence if he creates a skit designed to steer kids away from a life of crime and encourage them to be eco-friendly; also, overdue surrogate mother Joy is desperate to give birth.
Official Storylines (from NBC)
SCARED STRAIGHT – CRAIG T. NELSON GUEST STARS—The Warden (Craig T. Nelson) asks Earl (Jason Lee) to take on a task of forming a skit called, "Scared Straight" that will scare kids from committing crimes and stay out of jail. The Warden asks Earl to incorporate environmental friendly "green" messages into his presentation, based off a request from his wife, the governor. Meanwhile, Randy (Ethan Suplee) gets into a fight with Earl about who is in charge between the two of them, and uses his guard privileges to make Earl's life difficult. Jaime Pressly and Eddie Steeples also star.
Chicago – 25 or 6 to 4
Dr. John – Right Place, Wrong Time
J. Geils Band – Freeze Frame
Steppenwolf – Magic Carpet Ride
The Allman Brothers Band – Jessica
Screenshots