4x01 The Magic Hour
Summary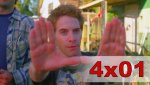 Air Date:
September 25, 2008
Writer(s): Timothy Stack
Director: Eyal Gordin
---
Community rating: 90.7 %
---
You must be logged in to rated!
Links
Synopsis (Source: Wikipedia)
Comming soon.
Official Storylines (from NBC)
THAT'S A WRAP? – CAN EARL HELP GUEST STAR SETH GREEN (ROBOT CHICKEN) MAKE HIS OWN LOW-LOW-LOW BUDGET ACTION MOVIE? – When Joy (Jaime Pressly) cons Make-A-Wish to send a celebrity to her trailer, Earl (Jason Lee) remembers a wish he stole from a dying child and decides it's time to cross him off the list. When he returns to the kid's home, he finds that little Buddy (guest star Seth Green) has exceeded all of the doctors' expectations and is still alive. Buddy asks Earl to produce his movie and suddenly all of Camden County find themselves starring in a high-octane action film. Randy (Ethan Suplee) surprises everyone when his acting skills get rave reviews. Nadine Velazquez and Eddie Steeples also star.
Trivia
Guest star Seth Green (Buddy) and series star Jason Lee (Earl) starred together in the Jerry Bruckheimer hit Enemy of the State (1998).
The actress playing Buddy's Mum (Mindy Sterling) also played Scott Evil's (Seth Green) Mum in the Austin Powers Movies.
? – Stole a Buddy's mount
Screenshots
---
All text is available under the terms of the GNU Free Documentation License | Design & webmaster Petr Kašpar 2006-2012 | Site Map | Privacy Policy
This site is a fan site, we have no connections with My Name is Earl or the NBC studios.
All copyrights on images and other materials presented here remain property of their respective owners.