4x02 Monkeys Take A Bath
Summary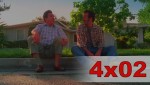 Air Date:
September 25, 2008
Writer(s): Greg Garcia
Director: Greg Garcia
---
Community rating: 88.8 %
---
You must be logged in to rated!
Links
Synopsis (Source: Wikipedia)
Comming soon.
Official Storylines (from NBC)
THOSE CHEATIN' HEARTS – GUEST STAR BEAU BRIDGES RETURNS AS EARL'S FATHER AND THE TWO BOND OVER THEIR WOMEN TROUBLE – Earl (Jason Lee) and Randy (Ethan Suplee) decide it's time to make amends with their childhood neighbors, the Clarks. But when they discover more skeletons in the closet than they had expected, the brothers find themselves needing to sort out some family issues between their mom (Nancy Lenehan) and dad (Guest Star Beau Bridges). Meanwhile, Joy (Jaime Pressly) has duped one-eyed Willy out of his glass eye, and despite Darnell's (Eddie Steeples) efforts Willy may never "see" that eye again.
Trivia
Original name of this episode is "Vote for This and I Promise to Do Something Crazy at the Emmys".
87 – Chased away Mum and Dad's friends
Roy Orbison – Crying
Survivor – Eye of the Tiger
Screenshots
---
All text is available under the terms of the GNU Free Documentation License | Design & webmaster Petr Kašpar 2006-2012 | Site Map | Privacy Policy
This site is a fan site, we have no connections with My Name is Earl or the NBC studios.
All copyrights on images and other materials presented here remain property of their respective owners.