4x03 Joy in a Bubble
Summary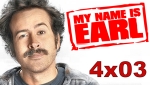 Air Date:
October 2, 2008
---
Community rating: 90.0 %
---
You must be logged in to rated!
Links
Synopsis (Source: Wikipedia)
Comming soon.
Official Storylines (from NBC)
SOCIAL DISEASE – EARL HAS TO TAKE OVER JOY'S LIFE WHILE SHE'S CONFINED TO A PLASTIC BUBBLE – Earl's (Jason Lee) attempt to give Joy (Jaime Pressly) the hot tub she's always wanted backfires and she is forced to stay in a makeshift bubble because of a flesh eating toe infection. While she is out of commission, Earl must fill in as the new Joy. Between gossiping with the ladies at the salon and shopping for meat out of some guy's trunk, Earl learns a lot about the Turner family. This includes the fact that Dodge (Louis T. Moyle) and Earl Jr. (Trey Carlisle) might have a social disorder that causes them to have no friends. Can Earl fix this problem too? Ethan Suplee, Nadine Velazquez and Eddie Steeples also star.
---
All text is available under the terms of the GNU Free Documentation License | Design & webmaster Petr Kašpar 2006-2012 | Site Map | Privacy Policy
This site is a fan site, we have no connections with My Name is Earl or the NBC studios.
All copyrights on images and other materials presented here remain property of their respective owners.