4x09 Sold a Guy a Lemon Car
Summary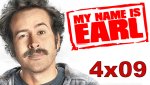 Air Date:
November 6, 2008
---
Community rating: 78.6 %
---
You must be logged in to rated!
Links
Synopsis (Source: Wikipedia)
Comming soon.
Official Storylines (from NBC)
WHEN LIFE GIVES YOU LEMONS YOU PASS THEM ON TO THE NEXT SUCKER – EARL FINDS OUT HE PUT ALL OF CAMDEN IN DANGER WHEN AN UNEXPECTED LIST ITEM MOVES NEXT DOOR – JANE SEYMOUR GUEST STARS AS HERSELF – When a mysterious man moves next door to Earl (Jason Lee) and Randy (Ethan Suplee) a life-or-death item suddenly jumps to the top of the list. Meanwhile, Joy (Jaime Pressly) becomes obsessed with winning a science fair so that she can buy something special with the prize money. Nadine Velazquez and Eddie Steeples also star.
---
All text is available under the terms of the GNU Free Documentation License | Design & webmaster Petr Kašpar 2006-2012 | Site Map | Privacy Policy
This site is a fan site, we have no connections with My Name is Earl or the NBC studios.
All copyrights on images and other materials presented here remain property of their respective owners.