4x10 Earl and Joy's Anniversary
Summary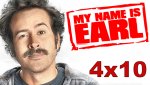 Air Date:
November 13, 2008
---
Community rating: 88.8 %
---
You must be logged in to rated!
Links
Synopsis (Source: Wikipedia)
Comming soon.
Official Storylines (from NBC)
A KILLER ANNIVERSARY – JASON PRIESTLY ("Beverly Hills, 90210") GUEST STARS AS EARL'S (JASON LEE) HANDSOME AND SUCCESSFUL COUSIN – When Earl (Jason Lee) goes to fix one of his wrongs he begins to reminisce about his first wedding anniversary with Joy (Jaime Pressly) when Randy (Ethan Suplee) threw them a surprise party at the crab shack. But when Earl's more successful and handsome cousin Blake (guest star Jason Priestly, "Beverly Hills, 90210") shows up Earl feels like a less than adequate husband. Meanwhile, killer bees have descended on Camden county trapping Darnell (Eddie Steeples), Catalina (Nadine Velazquez), Kenny (Greg Binkley) and Patty the daytime hooker (Dale Dickey) in a phone booth.
---
All text is available under the terms of the GNU Free Documentation License | Design & webmaster Petr Kašpar 2006-2012 | Site Map | Privacy Policy
This site is a fan site, we have no connections with My Name is Earl or the NBC studios.
All copyrights on images and other materials presented here remain property of their respective owners.