4x12 Reading is a Fundamental Case
Summary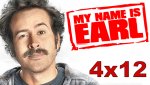 Air Date:
December 4, 2008
---
Community rating: 81.3 %
---
You must be logged in to rated!
Links
Synopsis (Source: Wikipedia)
Comming soon.
Official Storylines (from NBC)
LIVING ON THE WILD SIDE – EARL (JASON LEE) HELPS A FERRAL FRIEND GET POISONOUS BERRIES AND A WILD BRIDE OUT OF HIS SYSTEM –- EWEN BREMNER ("TRAINSPOTTING") GUEST STARS – While reading to the children of Camden County, Earl (Jason Lee) reminisces about a recent list item that he and Randy (Ethan Suplee) righted. It all began when Earl found his old friend, Raynard, (guest star Ewen Bremner, "Trainspotting") living in the wild and keeping company with a raccoon. Jaime Pressly, Nadine Velazquez and Eddie Steeples also star.
---
All text is available under the terms of the GNU Free Documentation License | Design & webmaster Petr Kašpar 2006-2012 | Site Map | Privacy Policy
This site is a fan site, we have no connections with My Name is Earl or the NBC studios.
All copyrights on images and other materials presented here remain property of their respective owners.