4x15 Darnell Outed – Part 1
Summary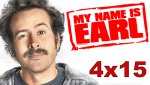 Air Date:
January 15, 2009
---
Community rating: 91.8 %
---
You must be logged in to rated!
Links
Synopsis (Source: Wikipedia)
Official Storylines (from NBC)
BUSTED! "CHiPs'" ERIK ESTRADA GUEST STARS -– After having his witness protection cover blown by Joy's (Jaime Pressly) outrageous audition for Erik Estrada's (guest star Erik Estrada, "CHiPs") new reality show, Darnell (Eddie Steeples) must pack up the family, assume a new identity and start a new life. Meanwhile, Catalina (Nadine Velazquez) helps Earl (Jason Lee) and Randy (Ethan Suplee) do whatever it takes to see Joy one last time.
---
All text is available under the terms of the GNU Free Documentation License | Design & webmaster Petr Kašpar 2006-2012 | Site Map | Privacy Policy
This site is a fan site, we have no connections with My Name is Earl or the NBC studios.
All copyrights on images and other materials presented here remain property of their respective owners.